I have gotten started on the Toys for Tots titan. He (she?) is primed and I have some basecoats down. I need to go get a couple of colors of paint this week, so I didn't get as much painted as I wanted on Sunday, but overall, it's a good bit of progress now that 90% of the model at least has some paint down on it. I only have 1 picture of it at the moment (as it's mostly just black and silver at this point!).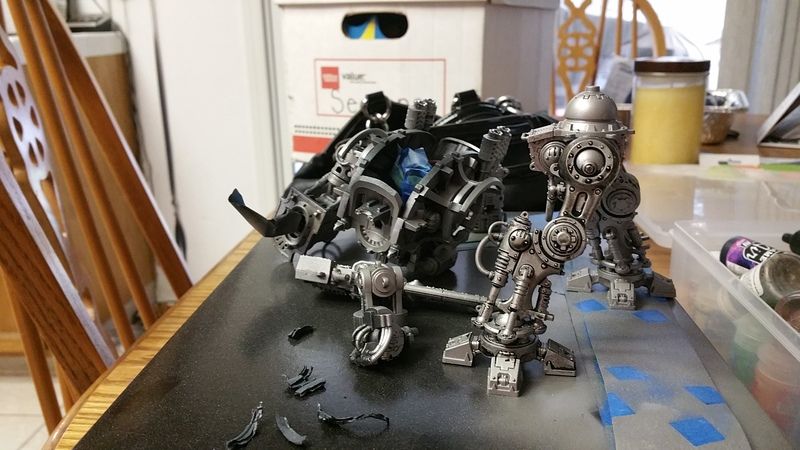 You can see the electronics and LEDs covered in tape at the moment. Lots still to do as well, but it's getting there. I'll try and sit down and get a bit more painted on Wednesday (hopefully with pictures shortly after the show is posted). In the meantime, I've also been collecting the materials for my army list boxes. I did a set of boxes for this last year's LVO and BAO. Everyone that I played against got one with a copy of my army list in it. Here are a few pictures of last year's boxes.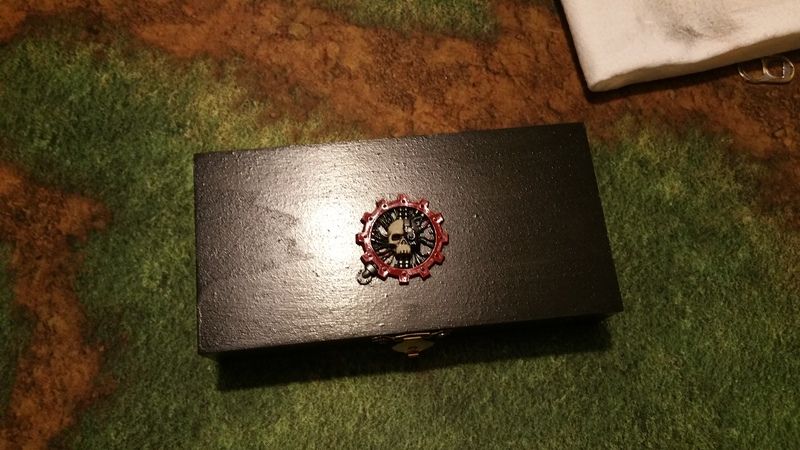 They were nice little jewelry boxes that I was able to get for relatively little. I printed out the lists (and the tabs that went in the top of each box) on some parchment and sealed them with wax. The LVO lists used an Inquisitorial symbol that I was never happy with. Though the gold =][= symbol on the red wax looked cool, it only really came out well on about 1 seal in 6. It was also super labor intensive. For the BAO, I used some jewelry chain and made a wax seal of the same boss I used on the top of the box (the mechanicum symbol from the Manufactorum kit). I made some velvet pillows for the lists to sit on too. All in all, they were generally a hit.
This year, I am using a significantly larger box so I won't have to fold the lists (this is a lot larger!). I'm going with this size because there wasn't a whole lot of reason price-wise to go with an intermediate size. The cost just didn't make much of a difference in between the two. This meant that I needed a much larger boss to go on the front. I distinctly remembered seeing a Forge World made large mechanicum symbol somewhere, but knew it was long out of print. After a bit of digging, I found that it was a special release done as part of a loyalty program with some unreleased mechanicum models. I found a couple on ebay from the UK and France and ordered them. The first (and better condition) of the two arrived last night. Hopefully the other one is at least half this nice. I'll be making a silicone mold of them and casting them to go on the boxes like I did with the previous one. This is large enough that I don't know if I am going to paint them like I did before, or go with an aged brass/bronze. I'm just not sure yet. I will also be custom making a clasp as these boxes don't come with one. I'll be remaking the Aquila pin, also had from Ebay, into a splitting magnetized clasp that will span where the box opens. Overall, they should be really cool. I'll probably make an extra one or two to give away (I'll probably give one to the Frontline Gaming guys and maybe someone else).
Lastly, ZappCon is coming up! It is the weekend of October 17th and 18th. The entire The Dice Decide cast will be there (including Erin from our The Dice Decide Your Movie special!), so come on out and see us. We'll be volunteering, and I plan on cosplaying at least one day. The final volunteer schedules haven't been released yet, but I should be working on running Artemis on Saturday! All the Artemis crew will be wearing special 'uniforms' and everything. It should be a fun time, so come on out. The link above is to their website. If you pre-order your two-day badge, you get a good deal off but pre-orders close on October 11th. It's an awesome convention with lots of vendors, cosplayers, games and more. Last year was great fun! This is the ship's logo: