Zappcon has come and gone. I was working for most of the con, but I did have a bit of time to dress up in the costume I've been working on. I've been assembling costumes for both my wife and I (avid listeners can hear my lovely wife on our The Dice Decide Your Movie special). I am now at the point where they are basically done. My wife's New 52 Batgirl costume needs a new cowl (I don't have the spare cash to get her the nice one out there right now, but we have a dollar store alternative that will work for Halloween). I still have a bit of work to finish off on my swords for Deadpool and some tweaks to how the belt buckle mounts, but they are done enough to wear.
Here's a shot of me in the costume.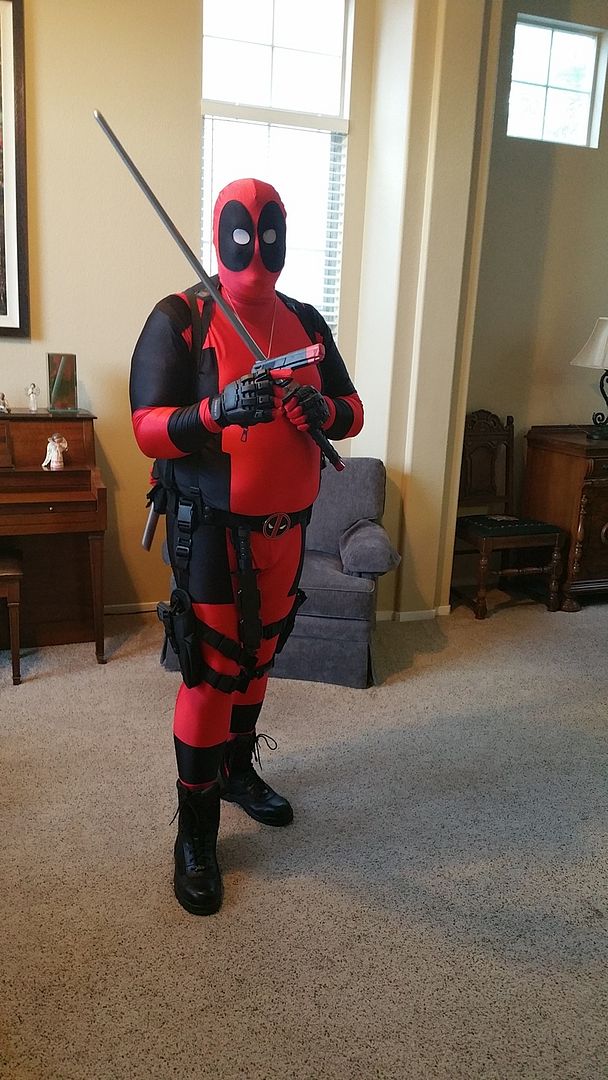 And a shot of me with another Deadpool at Zappcon! (Unnecessary hint: I'm the fat one)

I had a great time at the con. As I did last year, I bought a ton of art. I will post up links to the artists where I can, but I didn't snag a card from everyone.
First off is this an original canvas that I picked up from Art by Joshua. He's fairly local and painted a ton of stuff coming up to the con.
He also did the charcoal sketch here that my wife bought.

The other image is one of the pieces that I don't know who did. It's a limited edition lithograph of Chewbacca done to look like the Patterson Footage. I loved it, so I bought number 17 of 100.
The last guy I bought art from is Levi Craig of Watercolor Chaos. His stuff is amazing and I am very glad he came back this year. We bought five prints last year and even more this year!

Once we get Erin into her costume, I'll toss up some pics of her on the blog too.