Our local GT (the Brawl in the Fall) isn't happening this year.  The organizers felt that it had become too large of a draw for people outside the local community (the people they started it to cater to).  There were several locals last year that couldn't go due to the tickets selling out so quickly and not to locals.  So instead, our local Hobbytown USA decided to have their own GT catering to locals.  I always appreciated when people spent some time and gave me a nice army list instead of an Army Builder printout at the big events.  For a few tournaments, I made purity seals, but I didn't know much about wax, so they only looked so-so.   Starting with last year's LVO, I decided that I needed to be slightly more extravagant with my army lists, so I made a box for each list with a cool wax seal and a fancy boss on top.  They were a huge hit, so this year, I decided to upgrade.
I went ahead and made several molds.  I was going to do something with the aquila (and I may still in the future) but I've run out of time for this upcoming weekend, so no dice there. I did get a hold of the very rare small version of the Mechanicus symbol and cast it up as well. For the large mold, I primarily used Alumilite's Amazing Mold Rubber. I didn't need much of it, so I went with Amazon. Anything larger than 1-2 of those kits there it becomes worthwhile to buy it direct from them. It's very high strength and will capture detail beautifully. Most of the mold is that (it's white in the picture below). The blue is a cheaper 1-1 mix silicone that I can get locally. I use it for smaller molds and any waste molds that I need to make. It's cheap enough to do block molds (which I do a lot of because I'm lazy). One of these days, I'll put together a blog series about mold making, but the general advice is lubricate everything and make sure you don't care about any container you are pouring stuff into. Paper and plastic cups are awesome resources, and you can get cheap paper buckets too if you need to make a mold in something larger (that's what my large mold was done in). Molds went in, and I immediately made my usual mistake of impatiently demolding pieces…. The completed one in the picture hadn't fully cured, so it tore and was a mess and a half.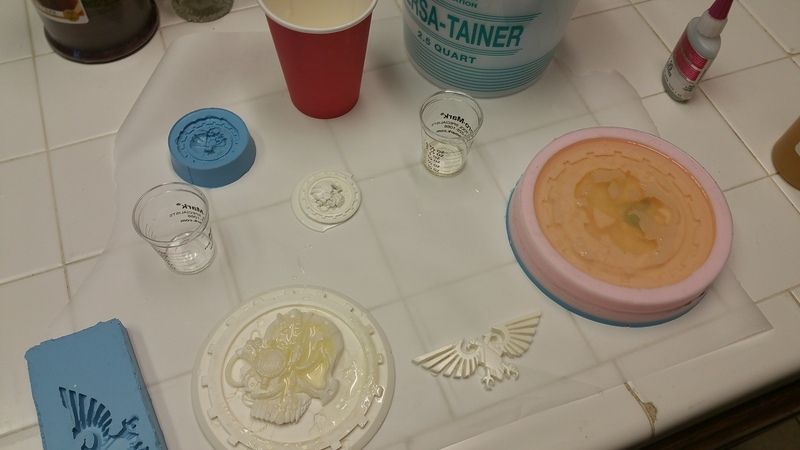 I eventually ended up with a load of resin symbols to use and a variety of wood boxes.
Once I had all the pieces I needed, I started working on the boxen themselves. They stain relatively well. Last time around, I stained the outsides with an ebony wood stain and the insides with a gray one. I decided to skip the ebony stain in favor of some gloss black spray paint. It worked relatively well, though not perfectly. I may well do the stain again next time. Next time around, I will buy the boxen early enough to do more prepwork on them. I again made velvet cushions for inside each box.

I also painted all of the resin components, but I did it more or less in one sitting, so there wasn't much in the way of any WIP shots. I have just printed out my army lists on parchment and have to fold and seal them with wax.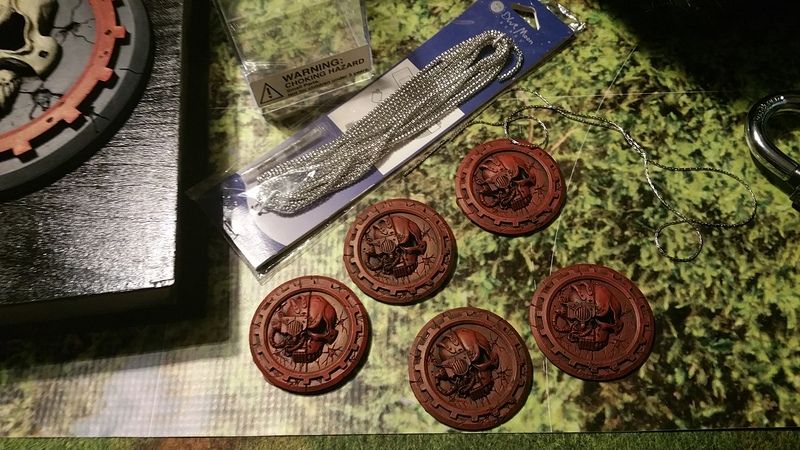 I've more or less decided not to do the large boxes, but to instead go with the book-style ones.  I might add some more embellishments next time around, along with a slightly better process (I will likely document that process better as well).  I'll be giving these away this weekend at the GT.  I'll make another post about how well I did next week.
*  I am fully aware that the correct plural for box is boxes.  As long as the plural of ox is oxen, I am going to treat it as the regular form for all words ending in ox.