The group Gencon order that we made came in, and I now have many shinies!  I ordered each of the three Gremlin boxes and a lucky effigy for myself.  I also ordered Collette's box, some Corphee, and some lampposts for my lovely wife. She is very excited for Collette.
So we'll start with Collette's box. The models look amazing. Everything seems straightforward. No mystery bits, but there is a pair of finger-claw things that need to be glued onto one of the Mannequins. That will be fiddly.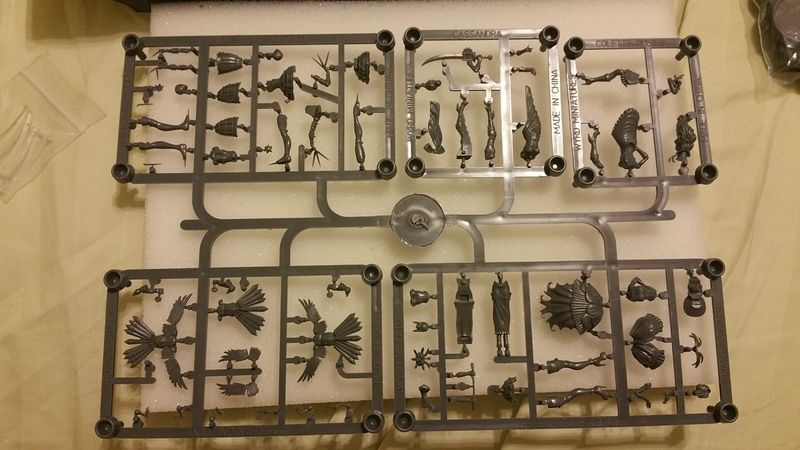 And the fiddly fingers. Plastic glue is going to be your friend here!
There are also little flight stands for the mechanical doves. These should be nice and robust. They aren't too brittle feeling, so they shouldn't snap too easily a la GW's inevitable broken flight stand bit stuck in the model mode. The whole box should be very fun to paint up. Lots of opportunity to play with texture on the clothes. I might even try out some iridescent pigments that I've had laying around for ages that I've never really had the guts to use. Now might be the time!
Next up was Ulix. His box is very straightforward. Lots of pigs, and they all basically go together exactly the same as all the other pigs.
I did have a bit that had fallen off the sprue that Wyrd was kind enough to tape back onto the sprue in a baggie.
Wong's box was the one I was most impressed by model-wise. Wong is a solid model, Mancha Roja looks amazing, and the firebugs all look absolutely awesome. There will be a great opportunity to try out OSL, which I am not very comfortable with yet. I'll be pushing my painting comfort zone there, but the models really demand it.
Mah Tuckett's box was interesting. It came inside it's sealed box with a plastic bag around the innards. I don't know if this is something new, something old, or what, but it was nice. Mah Tuckett is the box I am most looking forward to actually using. There are some seriously fun options with her and her crew that I want to use now.
Random baggie thing: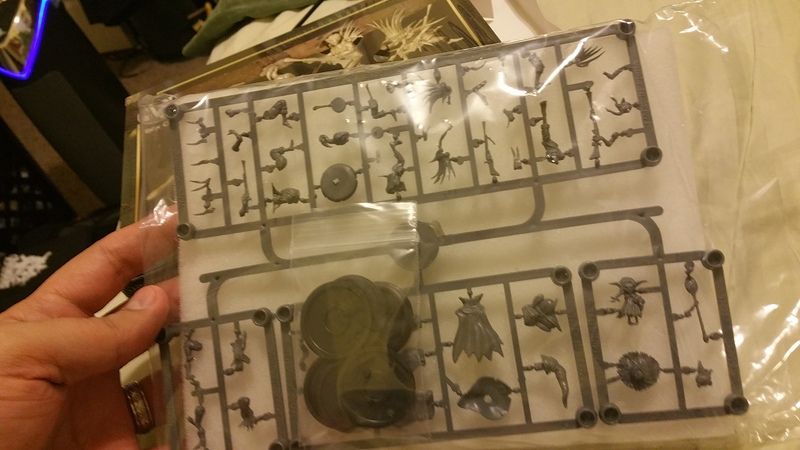 I also picked up the plastic lamps. They are very nice. Nothing spectacular to say about them other than that they look really good.
I went ahead and took some closeups too.
I am going to endeavor to paint more this weekend, so I should have an actual painting update soon. I'm also going to talk about building army lists as artifacts, which is something that I really want to become the norm in the competitive 40k circuit, but more on that next time!